Customer Stories: Designing for Augmented Intelligence
AI, Knowledge Graph UX for a Healthcare Startup
We improved trust, reduced clicks, and made over 80 user experience recommendations for an app powered by AI and a knowledge graph that helps doctors diagnose patients.
Background
RecoverX develops evidence-based medicine (EBM) augmented intelligence (AI) technologies to support and enrich physicians' decision-making. The RecoverX application provides insights at the point of care and next-best-action suggestions for decision support in real-time and in context, taking signals from clinical charts, real-time patient conversations, domain ontologies and test results.
To achieve an experience physicians could trust, RecoverX turned to Predictive UX to design and test a revised design. Our work included uncovering the unique needs of physicians in various clinical settings through user research, designing new experiences and data visualizations for the RecoverX application, and conducting usability tests with physicians and scoring the mental workload on the NASA-TLX and usability on the System Usability Scale to inform design iterations.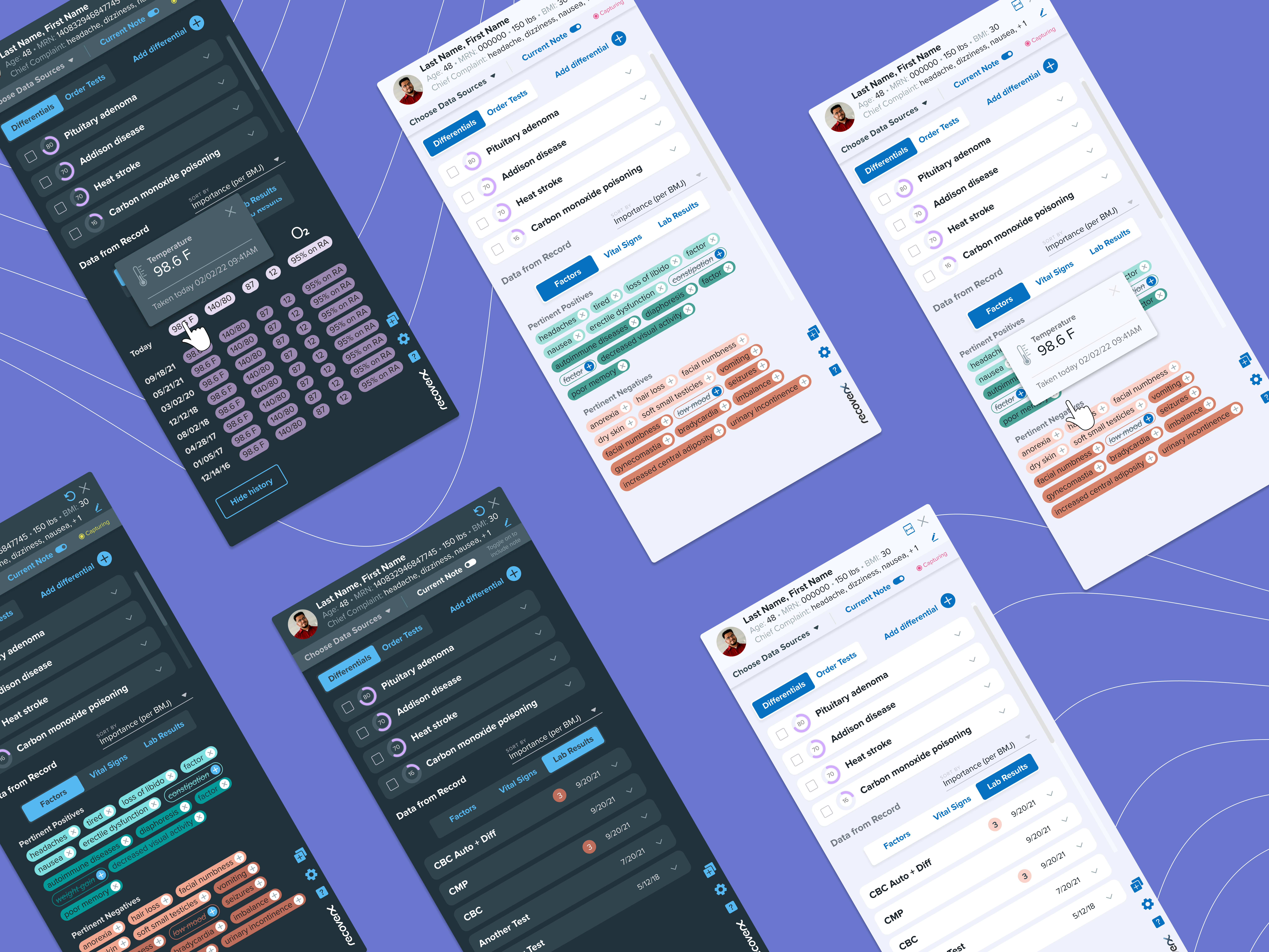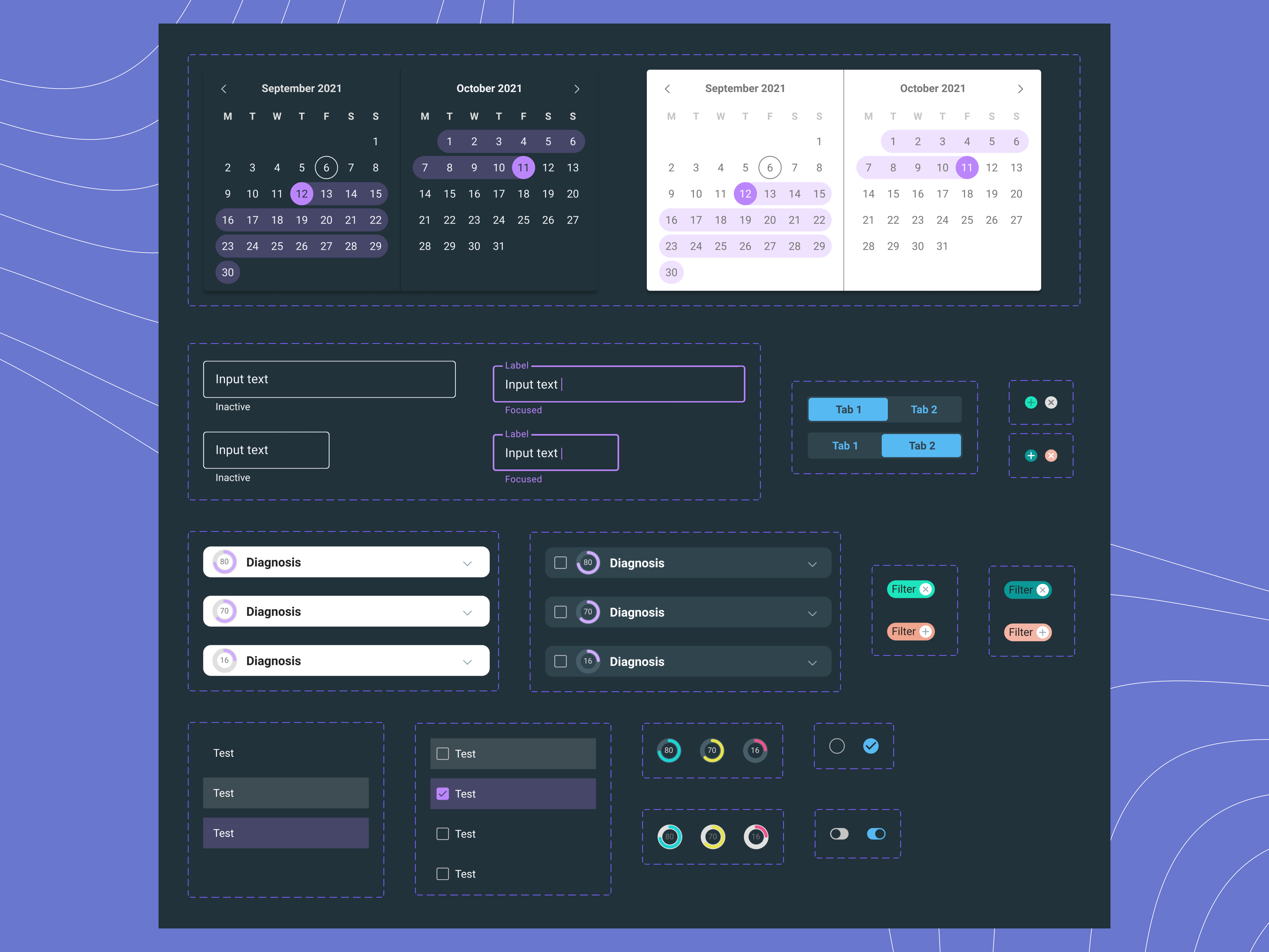 User Feedback
"Easy to use and adapt to..."
"Made me feel like I had more knowledge at my disposal."
"Felt like I was seeing the future of medicine."
Understanding how doctors might use the app during a patient visit to diagnose patients and order tests to uncover usability and process behaviors that might impact adoption.
Observing physicians using the app during one on one interviews where we simulated what happens during in-patient, outpatient and telehealth visits so that we could uncover potential usability and data problems.
We improved the app's SUS and NASA-TLX scores, fixed user uncertainty by adding easy to understand labels and showing data sources to enhance trust, and solved for accessibility concerns to improve performance for all users.
What We Did
We worked alongside our client to explore user feedback, reduce mental workload, and develop the perceived ease of use, satisfaction, and learnability of their application.
To arrive at our findings, Predictive UX tested a prototype we designed across 4 studies comprised of 30+ Tasks with 8 participants. Our work included designing the studies, facilitating each session, conducting SUS and NASA-TLX assessments, analyzing findings, making design recommendations and working with the client to iteratively update and re-test designs.
Delivery Time
There were two phases to our initial work totaling 8-weeks. During this time we focused our activities on User Research, User Testing, UX Design and UI Design. We concluded with a final report on our findings and recommendations.
Our Approach
First, we set the baseline usability score of the existing app before making any design updates. We used the NASA-TLX and System Usability Scale (SUS) to collect quantitative findings for a benchmark as a way to measure the effectiveness of design updates across three additional usability studies. We delivered over 80 prioritized design recommendations, 65 of which we were able to incorporate back into the Figma prototype and re-test for acceptance. In parallel, we worked on a design system to simplify dev consumption and future designs.
Outcomes
The outcome of our efforts included changes to the UI layout, information hierarchy, user flow, color scheme, and label placement resulting in moving the original experience from Medium to Low cognitive strain on the NASA-TLX and from a marginal score of 65 to an acceptable score of 80 on the System Usability Scale.
Predictive UX validated the application for product-market fit and through our testing and iterative design updates; we:
Improved the System Usability and NASA-TLX scores

Increased user trust

Reduced time to information

Improved clarity

Improved chances of adoption

Improved accessibility

Reduced clicks and scrolling
One of the most interesting findings came out of a "blue sky" activity where we imagined designing this application as if we had never seen the client's version of the UI. This produced a dark mode version of the application, which improved accessibility and received unanimous praise as the favorite color scheme for users, our client, and the Predictive UX team.
Changing the UI design from light mode to dark mode greatly increased contrast between this application and underlying application that this new app would "sit" on top of in the UI.
The final outcome of the design is shown here with latin replacing the actual data.